COVID-19 is disrupting the pharma industry, causing drug shortages around the world and exposing the need for a more resilient global supply chain.
Digital technology could help change the sector and make global pharma production stronger, more diverse and more flexible.
India, one of the world's major suppliers of pharmaceutical ingredients, is pioneering technologies that could transform drug makers around the world.
The pharma industry has played a vital part in fighting the COVID-19 pandemic, supplying life-saving drugs that can help patients recover from coronavirus. However, the pandemic has also posed severe challenges to drug makers. It has disrupted global supply chains, laid bare the sector's vulnerability and highlighted the need for greater resilience and flexibility.
Drug makers have experimented with new technologies to overcome the outbreak and its knock-on effect on manufacturing. For instance, Novartis partnered with Amazon Web Services to digitally transform manufacturing, supply chains and delivery of drugs. But more needs to be done.
Here in India, three strategies based on the pioneering use of digital technologies are transforming the pharma industry and offering a way out of the crisis. They could be replicated around the world to help global drug makers weather the pandemic and emerge from it stronger and ready for the next challenge.
China accounts for 20% of total global API output, with the Indian pharmaceutical industry importing around 85% of those ingredients from China. India's reliance on China for active pharmaceutical ingredients, particularly for antibiotics and vitamins, exposes it to raw material supply disruption and price volatility. Boosting productivity and efficiency at home could make Indian ingredients more cost-competitive and reduce India's dependency on China.
One way to do this is through the use of digital technologies for quality control, in the form of advanced analytics, robotics and automation. Using technology to reduce manual errors and variability and improve quality can deliver 30- 40% increases in productivity.
Cipla's API manufacturing plant in Kurkumbh, India, is a good example of this. It has fully embraced the power of digital technology throughout its supply chain. This includes automated material flow, digital management information systems, and use of augmented reality and virtual reality technologies for employee training and plant maintenance. In May 2020, Cipla was one of four Indian firms that signed a non-exclusive licensing agreement with US-based Gilead Sciences Inc. for the manufacturing of the medicine Remdesivir, known for helping patients recover from COVID 19. Under the agreement, Cipla produces active pharmaceutical ingredients for Remdesivir as well as the finished product, and is also in charge of distribution.
Application of digital technologies in pharma manufacturing can diversify production, reduce costs and help build a more resilient and flexible supply-chain. Increasing the productivity of pharmaceutical firms is particularly important to ensure an uninterrupted supply of affordable COVID-19 medicines.
India lags behind China in terms of export share across all categories of intermediate pharmaceutical products. Digital technology can help Indian drug manufacturers increase their exports as a proportion of total sales – what's known as export intensity – enabling India to embed itself more firmly in pharma global value chains (GVCs) and reduce its reliance on domestic demand.
Research has shown that investing in IT can, for example, boost the export performance of pharma firms. For Indian pharma firms that invest in building digital capabilities, exports make up 45% of sales, on average. For those that are digital followers rather than leaders, and invest less in new technology, exports make up only 28% of sales, on average.
There are many reasons for this positive impact on exports. Digitalisation in manufacturing can raise productivity and output and thereby exports, while digital platforms can provide better access to new markets through online sales channels and digital marketing. Digital inventory management can further enable the use of valuable customer data in business models and can strengthen customer relationships through direct contact and quick communication.
Supporting research & development
India is a big player in pharma manufacturing but lags in drug discovery and development, with Indian drug manufacturers receiving limited knowledge transfer through global value chains. This is evident when we look at patenting activity in the sector. India accounts for less than 2% of global pharmaceutical patents, significantly lower than China (at 8.75%), the U.S. (at 40% ) and the EU (at 22%).
Growth in this area could be driven by a renewed appetite for business-risks, and a different approach to the research and development environment. Seeking uniformity between products produced in different states can also help, as can reskilling the India pharma workforce through new work incentives, training and resources.
India's Pharma Vision 2020 programme seeks to push for such changes and establish India as a global leader not only in the production of low-cost generic medicines but also end-to-end drug discovery and development. Investing in digital technologies is one way of doing this. The average research and development intensity of digital leaders in India's pharma manufacturing sector is 2.7%, significantly higher than the average intensity of digital followers (at 1.3%).
Average product sophistication is also higher in digital leaders than digital followers. These technologies can reduce the cost of drug development, accelerate product development timelines, optimize drug and product design and enable faster and more efficient monitoring of the drug development process.
A good example is that of Lupin, a major drug maker based in Mumbai, which is using data science and analytics in research and development, manufacturing, quality, sales, finance, IT, and human resources. Covid-19 has accelerated its adoption of digitalization, with the firm now digitizing access control systems through facial recognition and temperature measurements. It also carries out online training in a range of subjects, from medical issues to soft skills. To build a resilient sector that will thrive after COVID-19, such investment strategies must be implemented across the industry.
The first global pandemic in more than 100 years, COVID-19 has spread throughout the world at an unprecedented speed. At the time of writing, 4.5 million cases have been confirmed and more than 300,000 people have died due to the virus.
As countries seek to recover, some of the more long-term economic, business, environmental, societal and technological challenges and opportunities are just beginning to become visible.
To help all stakeholders – communities, governments, businesses and individuals understand the emerging risks and follow-on effects generated by the impact of the coronavirus pandemic, the World Economic Forum, in collaboration with Marsh and McLennan and Zurich Insurance Group, has launched its COVID-19 Risks Outlook: A Preliminary Mapping and its Implications – a companion for decision-makers, building on the Forum's annual Global Risks Report.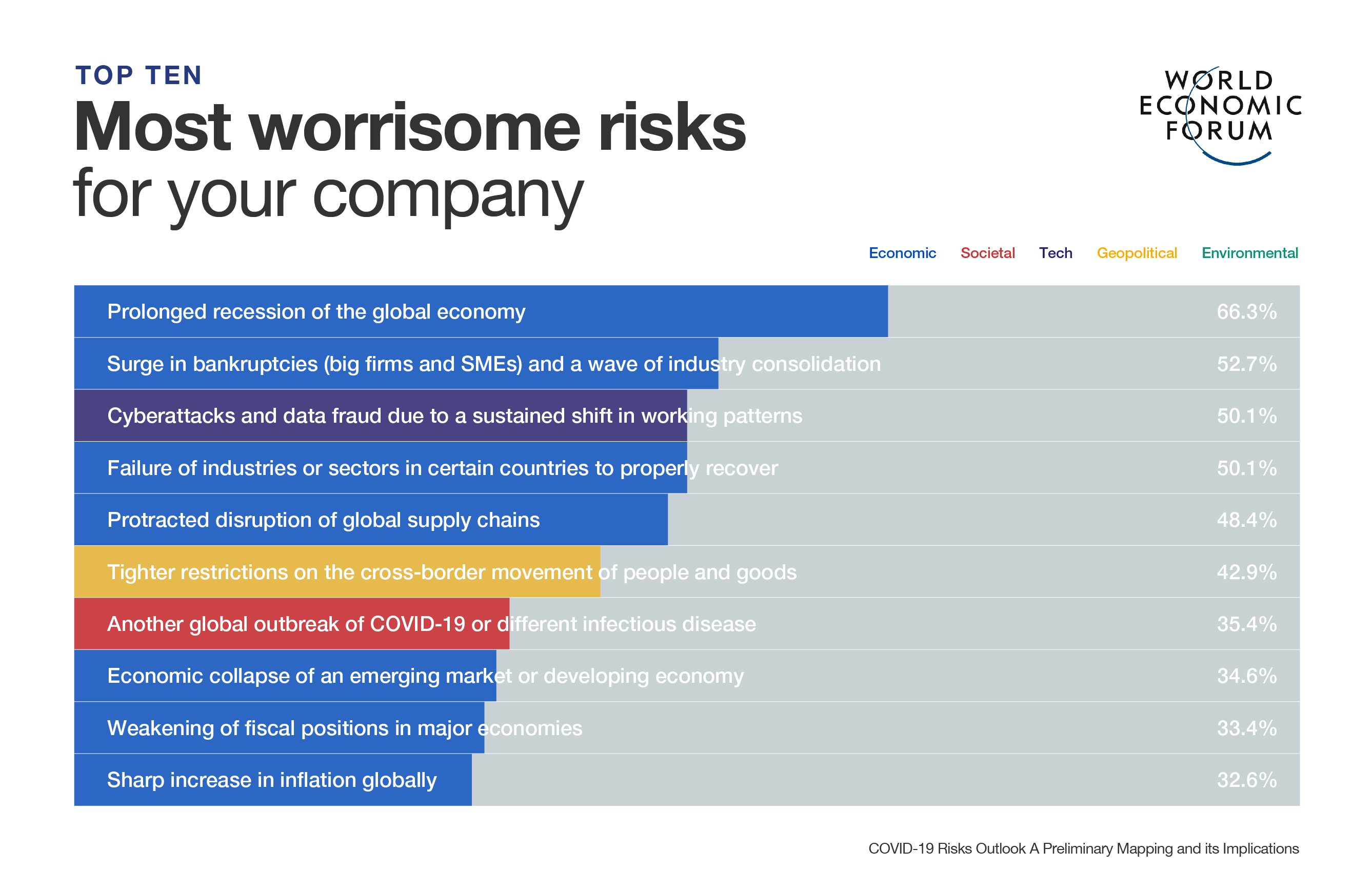 Pharma manufacturers all over the world are scrambling to boost capacity utilisation and productivity to meet the increased demand for pharmaceuticals during the crisis. In India, some companies have shown that digital technology can help address this challenge, while also strengthening research and development for long-term innovation. Used wisely, these technologies could help drug manufacturers everywhere mitigate the economic losses from COVID-19 and prepare for the future.
Firms need to invest in digital capabilities and leverage data for economic gains, with industry and government leaders actively developing digitalisation strategies to maximise productivity gains and create employment opportunities to overcome the economic and social impacts of COVID. Tax incentives to boost R&D, partnerships with high-caliber academic institutions, and public and private capital funding will be key pillars in pharma sectors' response to the crisis.