Technology must address specific needs to help the world weather the ongoing pandemic.
Research points to key ways businesses can prioritize how technology is deployed to meet needs while defending their own commercial interests.
Addressing key concerns raised by some of the technologies is crucial to ensure their wide usage and success.
COVID-19 has accelerated the adoption of many new technologies. The wealth of different pandemic-related services and platforms on offer can at times feel overwhelming. For businesses trying to prioritize resources, understanding the most important trends and patterns in the technological response to COVID-19 is absolutely vital. New needs have led to a patchwork of solutions, as new research from Boston Consulting Group points out, that can bring a host of challenges in data storage, privacy and implementation.
As companies look ahead to weathering this next phase of the pandemic, technologies will play new roles. Recent analysis by Boston Consulting Group identifies three types of technologies that businesses should focus on if they want to pursue a successful commercial strategy as well as helping the world beat the pandemic.
The first global pandemic in more than 100 years, COVID-19 has spread throughout the world at an unprecedented speed. At the time of writing, 4.5 million cases have been confirmed and more than 300,000 people have died due to the virus.
As countries seek to recover, some of the more long-term economic, business, environmental, societal and technological challenges and opportunities are just beginning to become visible.
To help all stakeholders – communities, governments, businesses and individuals understand the emerging risks and follow-on effects generated by the impact of the coronavirus pandemic, the World Economic Forum, in collaboration with Marsh and McLennan and Zurich Insurance Group, has launched its COVID-19 Risks Outlook: A Preliminary Mapping and its Implications – a companion for decision-makers, building on the Forum's annual Global Risks Report.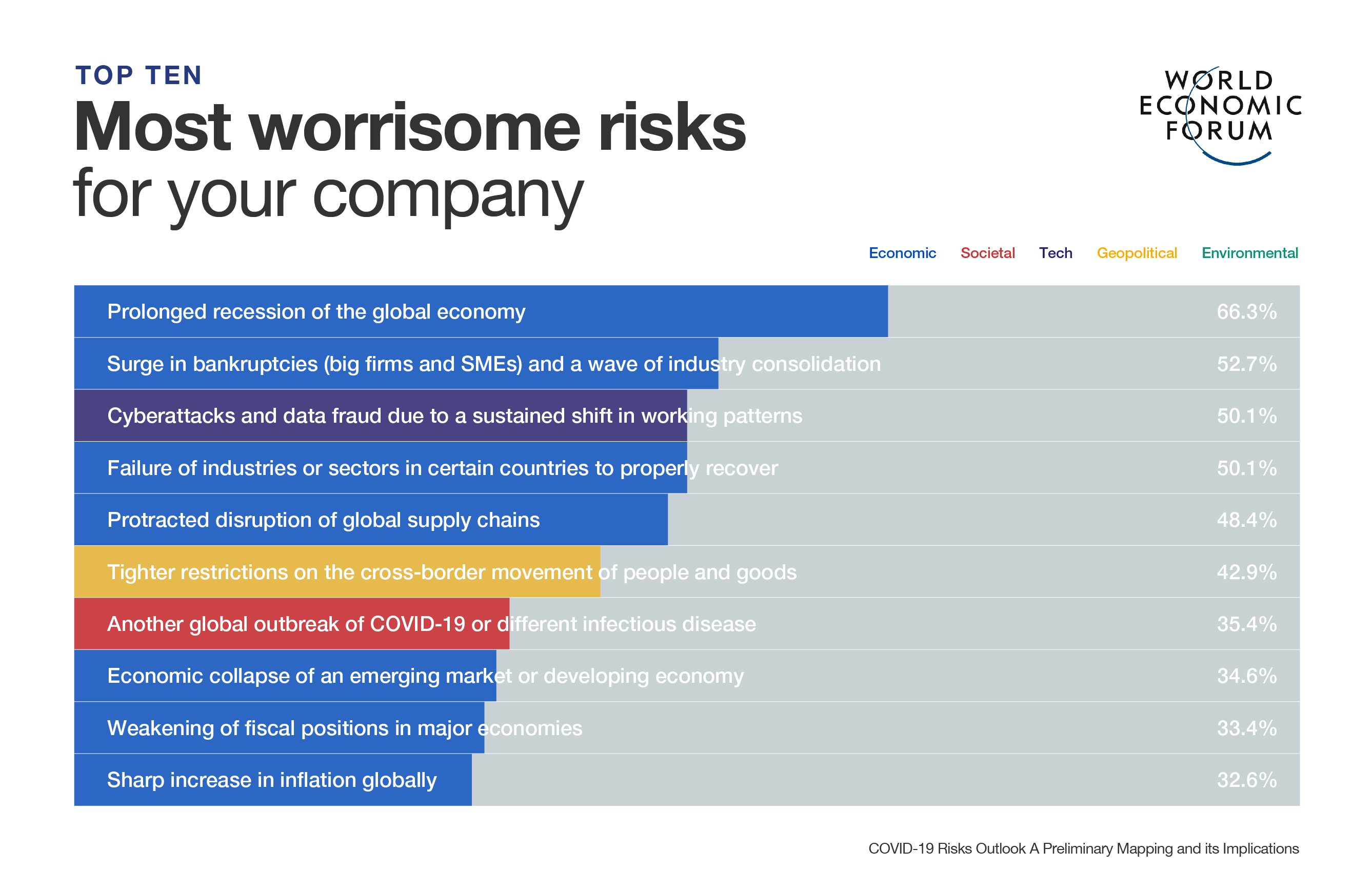 To arrive at these three priority areas, we deployed contextual artificial intelligence (AI), a form of artificial intelligence data within the context of a specific use case by adapting to user inputs. We used this technology to analyse over 2,500 openly available, English-language news articles published between January and May 2020 and assess which topics related to COVID-19 and technology were most prevalent. We also performed sentiment analysis on these topics, gauging the surrounding sentiment by analysing the language used by the author of each article. According to Netbase Quid, a market intelligence platform, natural language processors analyse not only the words used but also "slang, sarcasm, local vernacular, dialects, netspeak, and emojis" within the articles to properly contextualize the intended emotions behind words and phrases used. The articles can then be compared by sentiment direction and intensity.
The articles fell into 15 primary topic areas, such as "video/remote working", "contact tracing" and "telehealth solutions". These areas in turn clustered around a set of six broader categories: information management, economic resilience, detection and containment, provider enablement, social cohesion, and treatment acceleration. The categories were highly interconnected, as can be easily seen on the right-hand side of the image below, where the data is visualized as a cloud. Dense clusters represent articles that are very similar, with the fraying strands between them representing connections.
Three key themes emerged that spanned multiple categories within this set. They help us make sense of the mass of information about life during the pandemic, identify the technological areas that really matter, draw connections between them and understand how people feel about them. These key areas are: Driving innovation to promote economic resilience in a virtual world; tracking, tracing and preventing global disease spread; and fostering human connection in the absence of face-to-face interactions.
Information management plays a part in each of these areas. Specific solutions for the medical industry are obviously crucial as well, but warrant their own discussion in a separate analysis.
Driving innovation to promote economic resilience
COVID-19 has sparked rapid digitalization and automation across nearly every industry. Our cloud of topics and clusters shows strong interconnectivity between innovation, eCommerce, video/remote working, and cyber security. Each of these are strongly tied together in their ability to drive creative and rapid solutions to the difficulties created by the paradigm shift to an online-first world.
Innovations in off-the-shelf eCommerce platform capabilities have allowed companies that had limited online presence before the pandemic to quickly create minimum viable product online stores in a matter of weeks, rather than years.
Customers adapted to the shift to eCommerce quickly. In the first months of the pandemic, the use of online grocery shopping tripled, according to data from BCG, With most of those shoppers trying online for the very first time. Around a third indicated they'd online grocery shop even after the pandemic had ended. Additionally, online shopping rose 39% during the pandemic, according to an August BCG B2C eCommerce study. These increases may continue in the future, as 79% of customers indicated that they plan to shop online as or more frequently.
Remote working tools have allowed many companies to continue to function, ensuring economies don't fully grind to a halt. Zoom reached a record-shattering 200 million daily participants in April 2020 (a 20-fold increase from December 2019) thanks to people embracing virtual meetings, lectures and conferences as part of their remote-working routine. According to a recent Gallup poll, 59% of workers said they would prefer to work remotely as much as possible once restrictions on businesses and school closures are lifted.
However, this shift to a digital economy has led to increased concern over cybersecurity. As more data is exchanged digitally, opportunities for cyber-attacks have increased. Securing information is a critical part of a sustainable digital model which otherwise will quickly lose the trust of consumers and producers alike. Security attacks continue to rise, threatening the viability of a digital economy. More effort is needed to secure online transactions of information.
Tracking and tracing – and preventing global disease spread
It is imperative to manage, collect and analyse comprehensive data to allow for real-time tracking, while at the same time integrating technological solutions with robust cybersecurity protections. In our analysis, there are high levels of interconnectivity between these areas [see connections between nodes 2 (Connectivity) and 3 (Cyber Security), as well as between nodes 3 (Cyber Security) and 7 (AI/ Recognition), 9 (Real Time Tracking) and 10 (Telehealth Solutions) in Figure 1], as organizations and governments alike try to navigate the delicate balance of respecting individual privacy while safeguarding everyone's health.
Many countries developed opt-in mobile apps to facilitate the contract tracing process, while committing to safeguard privacy. Some apps garnering over millions of downloads (36% of some country's populations), but wider adoption of these apps mostly stalled, often due to the ways individual apps fell short of addressing privacy and effectiveness concerns. For wider adoption, more apps will need to take the lead shown by Singapore's TraceTogether app which featured a range of privacy safeguards (not collecting or using geolocation data and storing data logs in an encrypted form). Future attempts to collect track-and-trace data must recognize the need for complete privacy and develop a full cybersecurity suite in order to make people feel comfortable sharing personal data.
As economies reopen, the need for effective detection, containment, and tracing of infections is becoming the responsibility of the private sphere. Employees will expect assurances of safety before returning to work. This could be achieved by technical innovations such as return-to-work solutions. In the United States, Microsoft and UnitedHealth Group produced such an application to identify workers with symptoms and encourage them to stay at home. As more and more of these solutions are developed, we will need a means of securely sharing individual data across employers and nations.
Fostering human connection in an increasingly virtual world
For many people working and learning remotely, despite the benefits of spending more time with family members and/or roommates, human connection has been sorely missed. Our analysis (as seen in the closeness between nodes 2, 12 and 13 in Figure 1 at the top of this page) demonstrates strong interconnectivity between remote learning, connected communities and telecom/connectivity.
Customer service trends reveal a strong, ongoing need for human connection. Generally, companies have been moving away from human customer service representatives in favour of using automated chats and programmed replies or options. However, since the beginning of COVID, the number of calls to live agents has skyrocketed. According to a survey published in May, 38% of customers indicated that having the ability to speak to a live agent was a make-or-break factor for a successful customer service experience.
People eager to re-engage in social activities has led to resurgences in cases around the world. New measures to keep people happy at home are needed or the spread of infection could accelerate.
Among each of these technology solutions, there is a fascinating interconnectivity of 6 major categories of COVID/Tech topics. Companies that can address key concerns as well as their connected topics, in order to form a comprehensive solution, will reap both public welfare and commercial benefits. As we continue to explore how the tech industry can provide solutions to our global pandemic problems, expert insights can help us to distill the key themes from a complex web of activities.