The emerging jobs of the future economy require skills in new and disruptive technologies – yet according to this year's Global Gender Gap Report, these are the areas with the largest gender gaps.
But if the right strategies are put in place to increase the number of women with these disruptive technology skills in the workforce, we can not only start to close gender gaps, but also ensure women play a critical role in shaping the future.
For the past several years, LinkedIn has collaborated with the World Economic Forum to examine the state of gender parity: where we are today, what progress we've made and why. Here's what we found this year, and strategies for closing the gender gaps in critical sectors of the economy.
The largest gender gaps exist in emerging jobs driving the new economy

We know there are a wide variety of jobs rising in demand globally, across all industries and roles. Eight job clusters are growing most rapidly: People and Culture, Content Production, Marketing, Sales, Product, Data and AI, Engineering and Cloud Computing.
And every emerging job requires basic tech skills, with nearly half – like AI, robotics and cloud computing – requiring disruptive tech skills. These disruptive tech skills will have an outsized impact on the direction of society and the economy, so it's essential for leaders to understand the inequalities that exist in these roles today so we can prevent them from intensifying in the future.
The largest gender gaps in emerging jobs rely heavily on disruptive tech skills, with the share of women represented across all three clusters below 30%. We also find room to improve gender parity by embracing greater diversity in hiring and more inclusive managerial practices (see Figure 2) – but our data suggests those gains, while important, will not be sufficient to achieve parity.
Instead, we must invest in increasing the number of women in the workforce with these skills, either through traditional education pathways, or through non-traditional reskilling and up-skilling efforts from educators, employers and public sector stakeholders.
Sub-groups of disruptive tech skills where women have higher representation could expand the pipeline of talent

To discover where reskilling and upskilling investments would have the greatest impact, we took a closer look at disruptive tech skills to identify sub-groups where women are already better represented so we could expand the potential pipeline of talent into other disruptive tech skills clusters.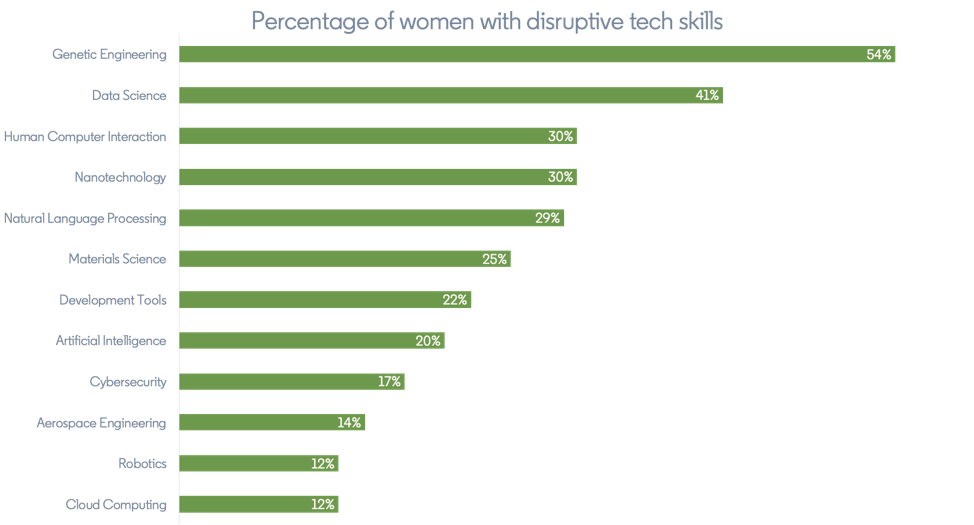 Our analysis revealed a new, potentially untapped pipeline of female talent: more than half (54%) of workers in genetic engineering skills clusters are women, followed by data science (41%), nanotechnology (30%) and human computer interaction (30%). Because women who work in these fields have the baseline skills and expertise that could be applied in different contexts and to new technologies, they could more readily transition into emerging roles with targeted reskilling.
Women aren't acquiring disruptive skills as quickly as men

To help us understand where we might be headed, we also looked at the growth of these disruptive tech skills over time. Across all disruptive tech skills, we see AI, cloud computing, and natural language processing have grown the fastest since 2015 – but women are not acquiring these skills at the same rate as men. Women are acquiring more disruptive tech skills broadly over time, but they're making the greatest gains in data science, genetic engineering and nanotechnology – which don't fall as squarely into the emerging jobs driving the changes of tomorrow's economy.
Closing the gap requires a strong pipeline and focus on retention

Making measurable progress toward gender parity in these emerging and rapidly-changing fields is not only critical – it's urgent. These disruptive technologies and occupations are shaping how we will live, work and communicate in the future – and the people in these roles are making decisions that will affect every part of our lives. Women must have an equal role in shaping this future.
To bring more women into emerging jobs, the number of women with disruptive tech skills must grow. And that means ensuring more women acquire these skills in the education system, and also that business leaders leverage existing and adjacent talent, in fields like life sciences where women with similar foundational skills have higher representation. This approach could have a massive impact; in Europe, for example, training and up-skilling "near AI talent" could double the pipeline of AI talent.
The Global Gender Gap Report tracks progress towards closing gender gaps on a national level. To turn these insights into concrete action and national progress, we have developed the Closing the Gender Gap Accelerators model for public private collaboration.
These accelerators have been convened in ten countries across three regions. Accelerators are established in Argentina, Chile, Colombia, Costa Rica, Dominican Republic, and Panama in partnership with the InterAmerican Development Bank in Latin America and the Caribbean, Egypt and Jordan in the Middle East and North Africa, and Kazakhstan in Central Asia.
All Country Accelerators, along with Knowledge Partner countries demonstrating global leadership in closing gender gaps, are part of a wider ecosystem, the Global Learning Network, that facilitates exchange of insights and experiences through the Forum's platform.
In 2019 Egypt became the first country in the Middle East and Africa to launch a Closing the Gender Gap Accelerator. While more women than men are now enrolled in university, women represent only a little over a third of professional and technical workers in Egypt. Women who are in the workforce are also less likely to be paid the same as their male colleagues for equivalent work or to reach senior management roles.
In these countries CEOs and ministers are working together in a three-year time frame on policies that help to further close the economic gender gaps in their countries. This includes extended parental leave, subsidized childcare and removing unconscious bias in recruitment, retention and promotion practices.
If you are a business in one of the Closing the Gender Gap Accelerator countries you can join the local membership base.
If you are a business or government in a country where we currently do not have a Closing the Gender Gap Accelerator you can reach out to us to explore opportunities for setting one up.
We must also focus on retention, ensuring that once we've gotten women into these disruptive tech jobs, they stay. We can do this by leveraging role models and mentors, and making the workplace a more flexible, conducive environment.
Each of these strategies requires leaders have access to real-time, dynamic and granular insights into which policies and programs are working – or not – across different industries, occupations and skills. Our ongoing partnership with the World Economic Forum seeks to inform decision-making with these actionable insights, continuing to be a trusted resource for leaders working to achieve gender parity and navigate the future of work.