The build-up of marine plants and animals on ship hulls is an age-old problem.
This 'biofouling' can increase fuel consumption by up to 40% and boost emissions.
It can also transport species to new environments where they cause havoc in the local ecosystem.
But now a robot has been invented that cleans ship hulls every time they anchor.
Its makers say it will bring huge environmental benefits.
Imagine a ship making its way across the ocean. It might look elegant as it cuts serenely through the waves. But a look below the water reveals a different picture, with countless aquatic species like barnacles covering the craft's hull.
Back in 2017 the bulk carrier DL Marigold became the world's first biofouling casualty when it was ordered to leave the waters of first New Zealand and then Fiji because it posed an invasive species threat.
Nothing, up to now, has managed to stop what for ship owners is an expensive problem. In severe cases, there's been no option but to check the ship into a dry dock for treatment, which can cost anywhere from tens of thousands to several million dollars.
Holding itself to the ship by powerful magnets, the robot removes marine life before it becomes established. Because it travels with the ship, it can be used every time the vessel is at anchor or in harbour and is designed to work without causing damage or erosion.
Once launched, the robot is operated remotely from central hubs using Internet of Things (IoT) and cloud technology. By inspecting the hull as it cleans, it removes the need for divers, helps avoid that costly dry dock downtime and increases the time ships can spend at sea.
Moving to clean energy is key to combating climate change, yet in the past five years, the energy transition has stagnated.
Energy consumption and production contribute to two-thirds of global emissions, and 81% of the global energy system is still based on fossil fuels, the same percentage as 30 years ago. Plus, improvements in the energy intensity of the global economy (the amount of energy used per unit of economic activity) are slowing. In 2018 energy intensity improved by 1.2%, the slowest rate since 2010.
Effective policies, private-sector action and public-private cooperation are needed to create a more inclusive, sustainable, affordable and secure global energy system.
Benchmarking progress is essential to a successful transition. The World Economic Forum's Energy Transition Index, which ranks 115 economies on how well they balance energy security and access with environmental sustainability and affordability, shows that the biggest challenge facing energy transition is the lack of readiness among the world's largest emitters, including US, China, India and Russia. The 10 countries that score the highest in terms of readiness account for only 2.6% of global annual emissions.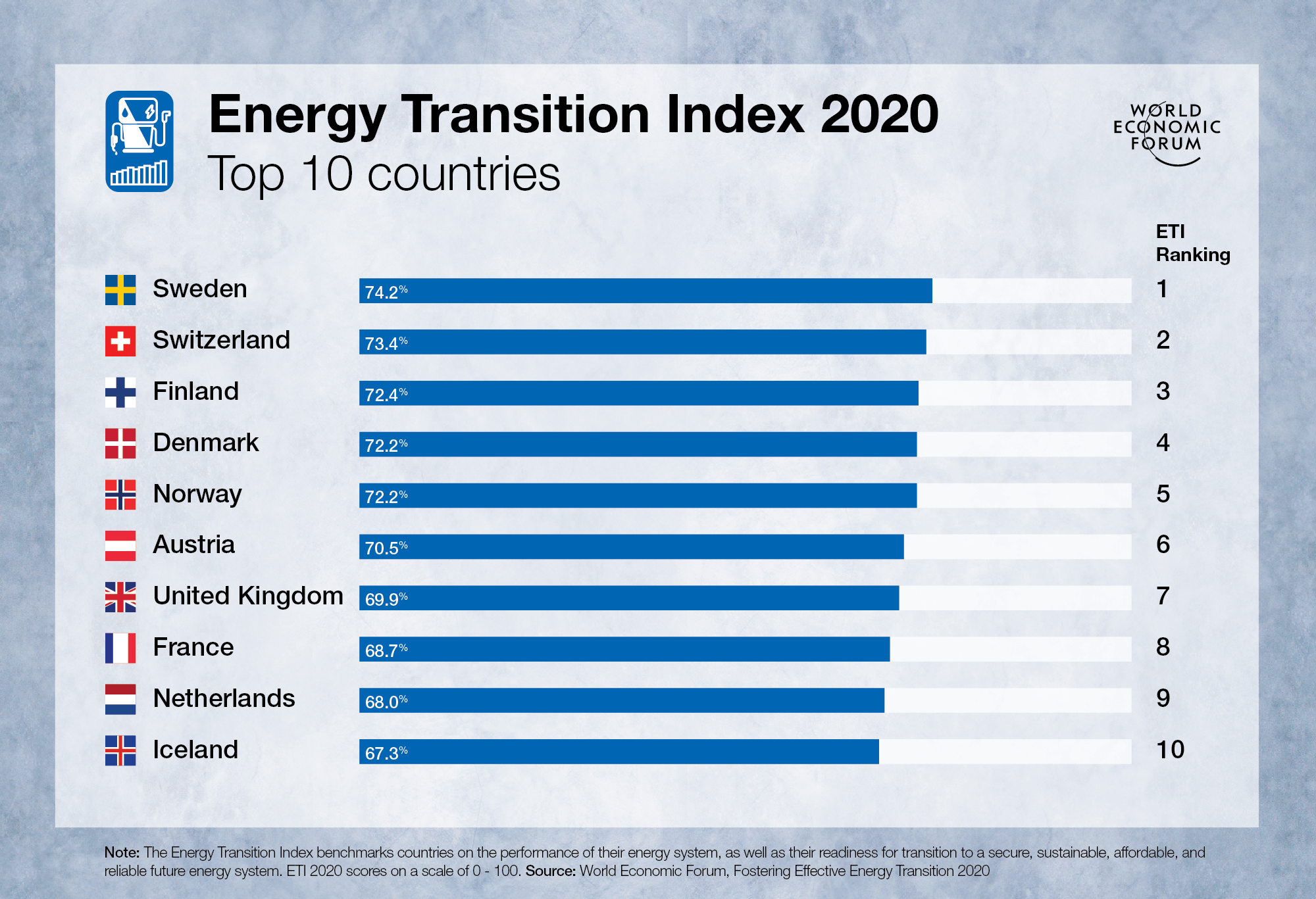 Additionally, the Mission Possible Platform (MPP) is working to assemble public and private partners to further the industry transition to set heavy industry and mobility sectors on the pathway towards net-zero emissions. MPP is an initiative created by the World Economic Forum and the Energy Transitions Commission.
Is your organisation interested in working with the World Economic Forum? Find out more here.
"If we were able to deploy this service broadly to ships across the world, we would have a huge environmental benefit," said Ove Fredheim of telecoms provider Telenor, a member of what he describes as the ecosystem of "technology leading Norwegian companies" behind the project.
Innovations such as the HullSkater could be an important step in helping to reach that goal.